Creative arts retreats
"There is great alchemy in the connection between our moving experience and the painting process"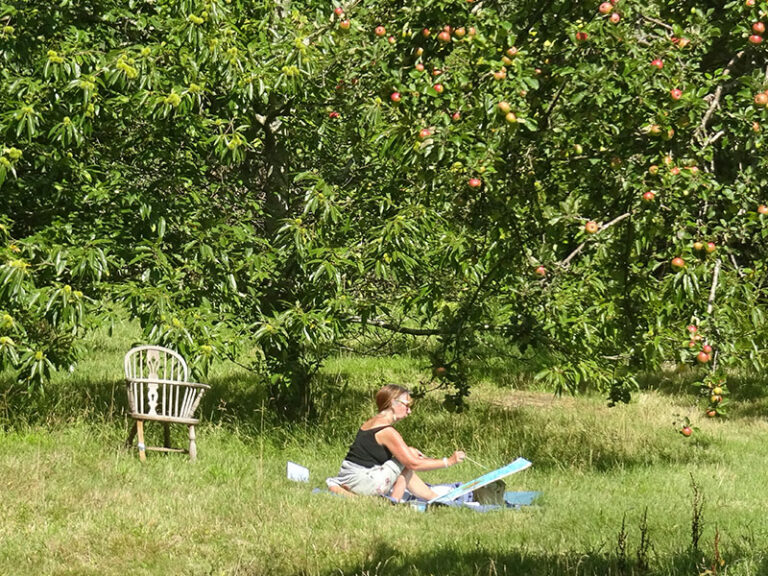 Coming Home

Movement & Painting retreat in Nature
1 – 3rd September, Friston Place, East Dean, BN20 OAL
£195 including accommodation, art materials, swimming pool, evening meals, snacks
MAX 8 PARTICIPANTS
In our increasingly busy world we sometimes give little time and attention to nourishing our body, heart and soul. Perhaps we feel disconnected from our needs and wants with a sense of not feeling fully 'at home' in our body.
Coming Home is a creative arts retreat offering space and time to pause and take time to listen to our embodied experiencing as we move and paint in nature.
Within this beautiful garden, and with gentle guidance, we tune into our natural rhythm in movement, inviting awareness and attention to our responses in nature as we open to our sensing, moving, imaginative self. Sometimes we move on our own, sometimes with others, creating a rich tapestry of connections and relationships in our exploratory, creative processes.
Movement experiences are expressed spontaneously through painting, creating an intimate, interactive dialogue between movement and imagery. There is no right or wrong way to do this, it is the process itself that is most valuable, offering potential for clarity and vitalisation.
Facilities include on-site camping or a room in the house, use of swimming pool and the barn if it rains. Participants provide their own food which can be stored in the barn. We arrive Friday evening to settle in and included in the price of the retreat is a simple evening meal, enjoyed together by the fire if the weather is dry. A hot meal is also provided Saturday evening. If you enjoy walking there is a track leading from the garden to Friston Forest and many glorious walks across the Downs towards the coast.
Please contact me for more information and booking: email here
About retreats
My creative arts retreats take place in a beautiful expansive garden in East Sussex where you can enjoy deep immersion in the stillness and beauty of nature, expressing your responses through movement, painting and mindful presence.
This is an invitation to listen deeply to what is happening in your body, feelings and imagination through tuning into physical sensations, and following the thread of your emerging movement from moment to moment in relation to each other and the environment.
Taking the movement experience directly into the process of spontaneous painting encourages us to freely express from our embodied self. This is a direct response to the movement experience yet has it's own life and message too. The process of painting, is in a way, another dance, but one that can be seen and touched, reflected upon, and shared with others in a different way than can be done through movement.
These retreats are available to everyone. No experience in either movement or painting is necessary. I create a warm, accessible environment for exploration around a given theme, making clear there is no way to get this wrong. It is simply an exploratory process for you to connect to self in your own natural, creative, embodied way.